BeachView Hotel ADA Statement
Beachview Hotel is in compliance with ADA standards, with accessible rooms and assistive devices on hand. Contact us for information on our ADA rooms or if you need any assistive devices.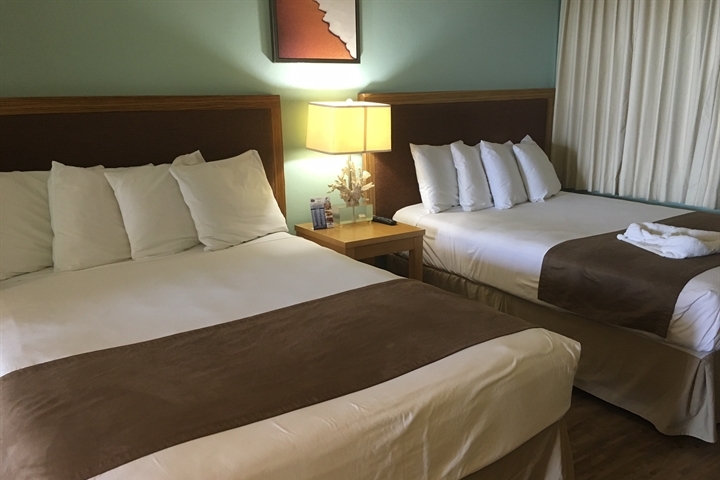 Queen Room- Accessible
Enjoy this 2 queen bedded room with balcony , living area, 2 flat screen tv's with on demand and generous sports package.
Grab bars in tub/shower
Strobe light smoke detector
Door minimum is 32 inches
Book Now
Photo Gallery
Accessible Hotel Amenities
Onsite parking allows for 1 car per room as well as having 3 accessible spots.
As you enter the lobby you will find multiple stations for check-in including accessible height section to accommodate wheelchairs.
Guest computer is located in the lobby area and accessible to all guests to print boarding passes or catch up on some work.
All areas of the building contain a minimum of 32 inch openings (doorways) to allow for ease of entry and exit from the guest rooms to pool area, breakfast area, and fitness room.
The elevator located outside of the lobby has stops at all floors as well as the pool area.
Website Accessibility
When creating our website, our development team used software tools to identify web accessibility standards as outlined by the World Wide Web Consortium's Web Content Accessibility Guidelines 2.0 Level AA (WCAG 2.0 AA).
While the industry is not operating from approved, regulated legislation, The Beach View Hotel is committed to our good faith effort to follow the guidelines available. If you have questions, concerns or have discovered an accessibility issue on our site, please contact us. Be sure to include specifics and any page where an issue has occurred. We will make every reasonable effort to make the page accessible for you.